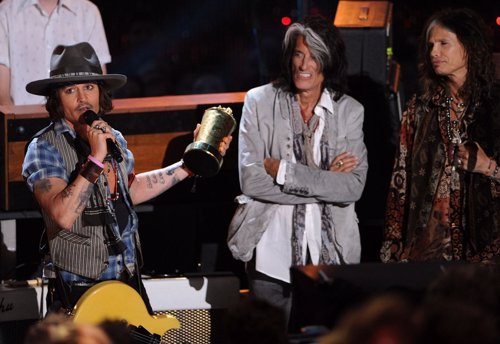 "No es que necesitáramos diez años para grabar el disco. ¡Estábamos preparándonos!", dice Steven Tyler. Por su parte, Joe Perry afirma: "
Es el álbum que queríamos hacer desde que nos reunimos en 1984.
No nos podemos quejar de lo conseguido ni de la fidelidad de nuestros seguidores, pero es el disco que imaginábamos en 1325 Commonwealth Avenue [en referencia al primer piso del grupo, donde vivieron los cinco y escribieron su primera canción]".
La versión deluxe de Music From Another Dimension incluye cuatro vídeos en directo (Rats In The Cellar, Train Kept A Rollin, Oh Yeah y Same Old Song and Dance), entrevistas exclusivas con los miembros del grupo y tres bonus Tracks: Up On A Mountain, Oasis y Sunny Side of Love.
Music From Another Dimension presenta a unos Aerosmith todavía potente
s, con canciones como Out Go the Lights, Luv XXX, We All Fall Down, Street Jesus y Cant Stop Loving You, con Steven Tyler a dúo conCarrie Underwood. En la canción
Freedom Fighter aparece como artista invitado Johnny Depp.
RTRS